Back to news articles
Graham Budd Auctions' Sporting Memorabilia Sale to include historic silks and racing colours
Three historic racing silks worn by jockey Geoff Lewis when riding Mill Reef to victory in the 1971 Epsom Derby, Eclipse Stakes, King George VI and Queen Elizabeth Stakes and Prix de l'Arc de Triomphe will be included in Day 2 of Graham Budd Auctions' sale of Sporting Memorabilia on Wednesday, May 25, 2022. They are estimated at £8,000-12,000.
As Adam Gascoigne, CEO of Graham Budd Auctions, explained: "Undoubtedly one of the greatest racehorses of the 20th Century, Mill Reef was bred in 1968 by his American owner, Paul Mellon at Upperville, Virginia. Considered better-suited to English turf racing, the small-framed bay colt by Never Bend out of Milan Mill was sent to be trained by Ian Balding at Kingsclere. He won 12 of his 14 starts over a glittering three-year career which included the golden summer of 1971 when, under Geoff Lewis, he carried Mellon's distinctive black and gold silks to victory in all the top races. Fifty years on, he still remains the only horse ever to have won the Derby, Eclipse, King George VI and Queen Elizabeth Stakes and Prix de l'Arc de Triomphe in the same season."
In August 1972, Mill Reef broke a foreleg while in training for a second attempt on the Arc, but skilled surgery together with his placid temperament enabled him to be saved as a highly successful sire of many winners including Derby heroes Shirley Heights and Reference Point.
The silks were bought at a Charity Auction by the London-based Canadian entrepreneur and financier Douglas H Bayle circa 1971/72, thence gifted to his son. Douglas H Bayle was the Chairman of E&O PLC and is perhaps best remembered for pioneering the Athena chain of poster shops in the 1970s, with the famous Tennis Girl poster selling over 2 million copies alone. Bayle was a regular attendee at black-tie dinners organised by The Variety Club and the Anglo-American Sporting Club and is the vendor of this lot.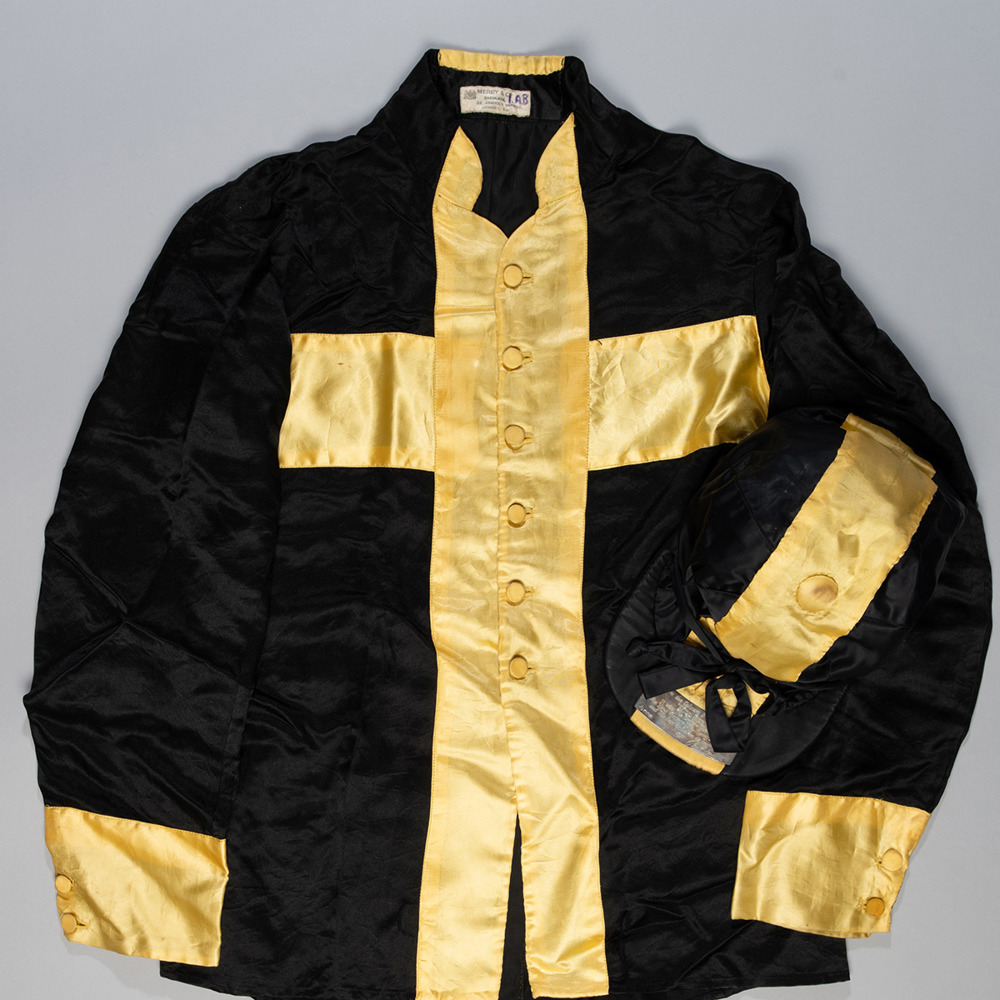 The colours are of the owner Mr Paul Mellon and comprise a black jacket with gold cross and cuffs, the Merry & Co neck label inscribed I.A.B., and left cuff I.A.BALDING, and a black cap with a gold stripe, the cap interior inscribed twice I.A.B. and I.A. BALDING. The cap has a silver plaque hallmarked Wakely & Wheeler, London, 1971, bearing jockey Geoff Lewis's engraved signature after the inscribed statement: THESE ARE THE COLOURS I WORE WHEN RIDING "MILL REEF" TO WIN THE DERBY - THE ECLIPSE, THE KING GEORGE VI & QUEEN ELIZABETH AND THE PRIX DE LA'ARC [sic] de TRIOMPHE, 1971.
Also in the sale is a set of racing colours of HM King George VI originally in the training yard of Noel Murless at Beckhampton, dating from around 1948 which are estimated at £5,000-7,000. Noel Murless took over as the "Master" of Beckhampton stables from Fred Darling in 1948. This directly led to HM King George VI sending Murless horses and indeed he trained three winners for His Majesty during his first season in 1948 which also saw him crowned Champion Trainer for the first time.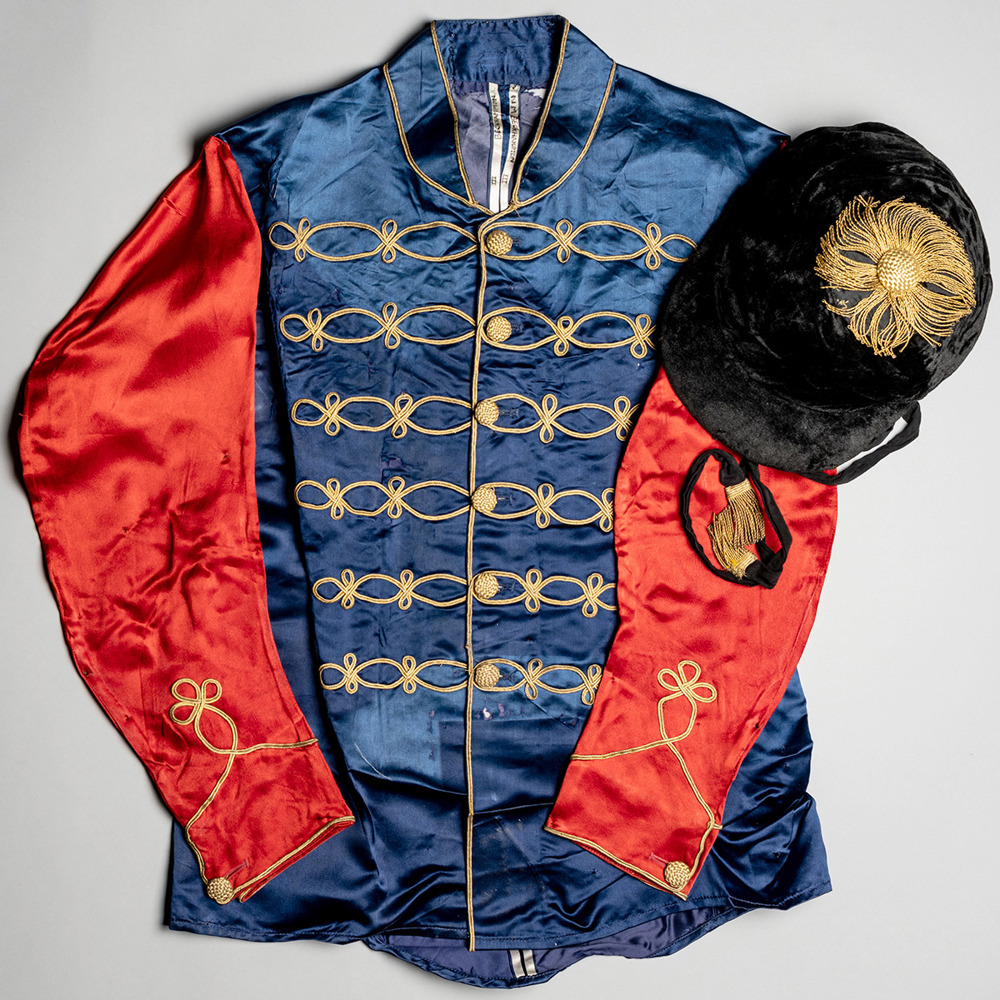 As Adam Gascoigne, comments: "We are very pleased to be offering these items with a Royal connection so close to HM, The Queen's Platinum Jubilee. We all know how she is passionate about horseracing and how important her father was to her. These silks were acquired by Frederick J Chandler Saddlers Ltd of Marlborough and used in a shop display at their London Road premises. The family business was formed in Marlborough in 1796 and held a Royal Warrant for HM The Queen. They also acquired D Gilbert & Son the famous Newmarket-based racing saddlers, a company who themselves held a Royal Warrant. A member of the Chandler family is selling them."