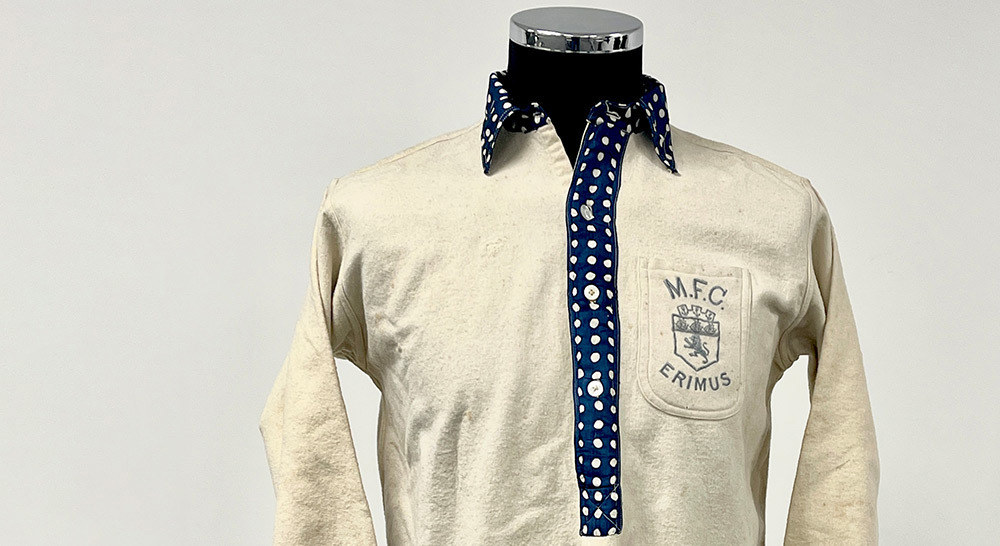 Clothes have always been influenced by the ever-changing fads and fashions, haven't they? I seldom pop on my brother's lovely purple crushed velvet suit to pop out for a pint of milk (though I accept that there are a few who would!) and can't recall the last time I dusted down my Starsky and Hutch special long knitted cardigan for a night out. But the cult of the football shirt, in the eyes of the fan or collector, is seldom affected by the age or design or the price that they have to fork out to own the ones that they want.
The older often the better. Going back in time, most football clubs simply bought the number of shirts they required from the local store. There were no multi-million-pound endorsement deals flying around. Instead, shirts were decided on by the level of durability that they offered in terms of value for money, and they definitely were not in the numbers that we see today. Often, the shirt they started the season with was the one they were expected to finish it with, and the peril of replacement was dealt with by request to the Club committee and answered with a trip over to the local sports shop to get you a new one!
Can you imagine what it would have been like back in the day actually asking a player for his shirt at the end of the game? I was terrified to ask a player for an autograph when I was young. Ritually dumped at the old players' entrance by big brother so he could disappear to the boozer, I always thought that all players back then mostly looked like werewolves and were generally terrifying. It once took all my nerve to ask Alan Hudson to sign my programme, let alone ask for his shirt. Still, back then we didn't have eBay to put it on as soon as we got home. Modern times, eh?
In the world of collection, there seems to generally be a cut-off point for the age of shirts that actually turn up. The age of the replica shirt is relatively modern, depending on the Club that you follow. The smaller the Club, the less likely you were to get anything that you would call an official replica kit in your Christmas stocking. My first one was a generic Umbro offering that came badgeless, though my mother had tracked down a badge to heighten its official credentials. The downside of this matriarchal kindness was that the badge was roughly the size of the actual football field and constructed from a material not unlike the stuff that the black box in a jumbo jet is made of. Perhaps unsurprisingly, the nipple soreness caused by the badge was so bad that it was sponsored by Vaseline!
To keep a shirt then it had to have some real meaning attached to it. An FA Cup Final, international honours or a championship may have been enough for the Club to dig deep in their pockets and allow for a special edition, denoted sometimes by the addition of a badge. As many clubs didn't have a recognisable crest of their own, that was a time to turn to the town and the council for their support. I recall a story that in the aftermath of Sunderland's game against PNE in 1937, the council requested the badges back from the players, much to the chagrin of the great Raich Carter!
I have, in the past, come across many England shirt badges with no shirts attached, and the simple reason often is that the player was allowed to keep the crest as a memento of the game and appetizer for the eventual award of a Cap. The shirt was then handed back in, washed and dished out for the next game with a fresh badge added. Just imagine the victorious 1966 boys having to do that!
I can't recall the oldest Club shirt I have come across or actually seen. Many years ago I remember spending time at Villa Park with the late Reg Thacker as he was assembling a collection for display. He had a shirt worn by the legendary Charlie Athersmith in Aston Villa's 3-2 victory over Everton on April 10th 1897 at The Crystal Palace, and that was, by recollection, basically a knitted jumper in the claret and blue. An incredible piece of history and textile but imagine what it would be like to wear when you were red hot or soaking wet? Much like running around with a sheep tied to your back!
The older ones are just so rare. Lost, cut up for bandages and hand towels in times of hardship or just recycled. I have, somewhere, a section of an England shirt worn by Bobby Barclay of Sheffield United and Huddersfield Town that was rescued from his daughter's shoe polishing box and had been buffing the Barclay Brogues for over half a century! Life and times were different.
I knew a family of a former 1925 FA Cup winner that consisted of three daughters. All of his International Caps and numerous medals from a glittering career were split evenly on his passing to a higher League, save his prized gong and shirt from the game. Both items used to spend an agreed and equal amount of time in each of the three daughters' homes to ensure fairness. One daughter was so scared that misfortune could befall the garment that, even when out shopping, she wrapped it in a bag and hid it at the bottom of her shopping trolley!
For many reasons, it's incredible that, for our March 2023 auction, we have secured what I would imagine is the oldest surviving Boro shirt and possibly the oldest example of a shirt from a League club still in one piece. We believe that it dates to between 1886 and 1890 when the team played in blue. Born originally in 1876, the Northeast Club had tried three other fetching colour combinations before this fine piece saw the light of day.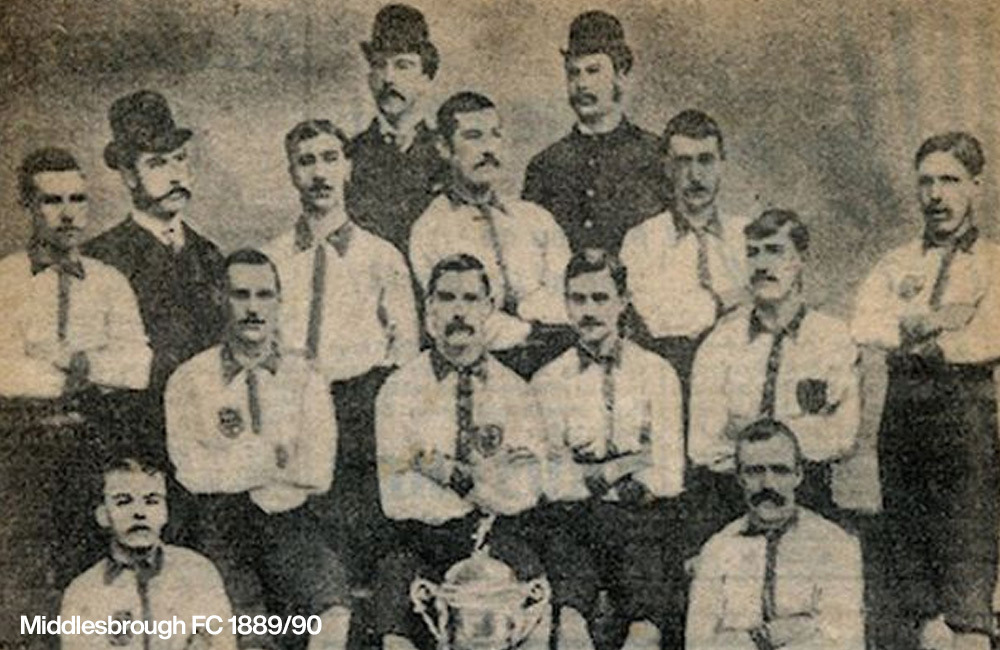 I find it fascinating that this example bears a badge beautifully embroidered on the breast pocket with the MFC logo so I would imagine that the shirt could have held some special significance to either Club or player. The trim is exceptional with a blue and white polka dot around the collar and buttons to complement the light blue needlework on the badge. It's made from flannelette like some Victorian dress shirt which, without the badge, it could well be mistaken for.
I can't start to tell you what a wonderful piece this is. On display for many years at the Riverside, it has now been made available for sale by the vendor from Graham Budd Auctions, and we place an estimate on its shoulders of £15,000 - £20,000.

I bet any collector would dearly love to have a wardrobe full of shirts of this vintage from all Clubs, and the fact that there isn't one illustrates just how valuable and significant this one is. They really don't exist, and the condition of this survivor is superb. It's definitely not one that I would risk popping out to buy a pint of milk in or, for that matter, wrapping up at the bottom of a shopping trolley!!