What's the most left-field piece that you have ever added to your collection?
Speaking personally, there are a few. As I collect vintage vinyl amongst other stuff, I have a particular fondness for the Fab Four, and it's become a real mission to buy anything related to the Liverpool legends. I have multiple copies of each album as well as some more rogue items including a mint copy of "The Chipmunks Sing The Beatles" and a Pinky and Perky version from the UK which has to be heard to be believed.
(By the way, keep your eyes on our blogs over the coming weeks and months. We are planning our first vinyl records and pop culture sale for later in the year which will throw up some fantastic items if you have a weakness in that area too. I can't wait!)
In sporting terms, I have also purchased some peaches. Back in the days when an arming beverage could be purchased at a ground in real bone China cups and before they became a potentially lethal weapon, many grounds had Oxo variants emblazed with the product name in the relevant colour. I have a couple in the red of my team (Sheffield United) that were retrieved from the old main stand back in the 1990s before they decided to flatten it. I liked them so much that when I came across an identical one in an auction in North Yorkshire, I bought that too. They date to before the First World War and take pride of place in the telephone box in my dining room (now that's a long story…)
On the stairs at home, we also have an Edwardian sign from the ladies' toilets at my club's stadium. I would love to tell you that it was bought in an auction to sell off the vintage and unusual before it went to meet its designer, Archibald Leitch, in the afterlife. But, it was actually "borrowed" by a young, drunk Mrs Garrett back in the day and never returned. God knows how she got it out - it's the size of a sail! It sits on our staircase urging "Ladies, please now adjust your dress" in beautiful period signwriting. We came clean in the end and made a donation to charity, and all was well - honest!
The March auction has some interesting pieces, but in my eyes nothing more so than a superb articulated fish crafted from Indian silver. I never thought I would see the day when I would say that!
In actual fact, we believe that it's a spice receptacle, but the workmanship on the piece really has to be seen to be believed. It was presented to the Islington Corinthians during their 1937/38 World Tour. The amateur team played throughout India, Malay and Singapore, in what turned out to be the dying days of the Empire, before making stops in Japan, Manila and the Philippines as well as Hawaii and Hollywood where they partied with the great and good. Islington must have seemed dull when it all ended!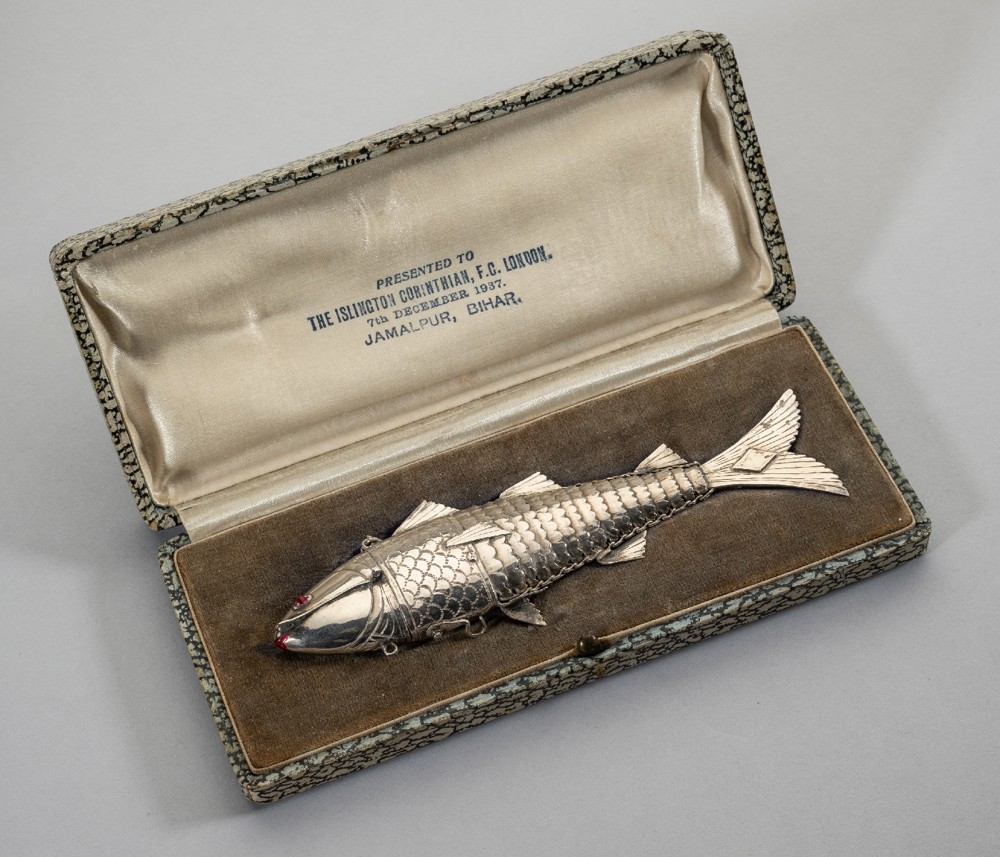 An incredible story to follow that tour occurred when one of the players, John Sherwood, who scored many a goal on the journey, was taken as a POW in Singapore. There, he recognised one of the guards as a player he had come up against on the tour and it is safe to say, based on his writing, that the relationship wasn't as cordial as when they had first met. Thankfully he survived to tell the tale!
The fish was presented to the team in India and is still in its original presentation box with the details etched in gold in the lid. It's a wonderful piece with a totally different "tail" that "scales" new heights for one of our auctions!
Why not "sea" for yourself if you are "trawling" our catalogue for something a bit different? With an estimate of between £300 and £400, it's a great place to start or even "fin-ish". Happy bidding!