Like every other auction category, Whisky started with relatively humble beginnings in the traditional auction format in 1989.
Throughout the 1990's and into 2000 and beyond, supply and demand has driven up prices supported by an International following of both collectors and investors. To this day, rare whiskies continue to attract auction buyers from every walk of life, all over the world. Sellers rely on reputable auctions houses to liquidate their cherished bottles.


Investing in whisky
Some people have bought whisky as an investment with no intention of drinking the spirit, remember that when the seal is broken, the bottle is worthless as a re-saleable commodity. Others have treated whisky as a speculative investment often to add to their pension fund or in addition to existing investments, selling the bottles 10 years or so down the line, it is no secret that many bottles have accrued a significant rise in value when their owners have been patient.
Exposure at auction of the major single malt brands has helped raise the profile and price of rare single malt whisky. Some exclusive brands can now sell for 6 and 7 figure sums with world record prices regularly being achieved.
Auction houses also have the technology to provide a similar service to the explosion of internet auction sites with the added advantage of being able to view the bottles in person rather than looking only at photographs online and for the duration of the auction have an auctioneer selling live in real time. In addition to live sales, timed auctions are also very popular and play a huge part in this highly successful and winning combination.
One of the wonderful things about whisky is that after it is bottled, the maturation process halts, correctly stored the spirit will be preserved in the same condition as the day it was bottled.
Sometimes bottles with a value might not be obvious, but to a collector they could be like gold dust.
Check your cupboards and your attic, if you have any of these bottles you may be onto a winner, many of these whiskies are "Hard to Find"


A small selection of popular single malt brands, more to follow…
Bowmore Distillery, Isle of Islay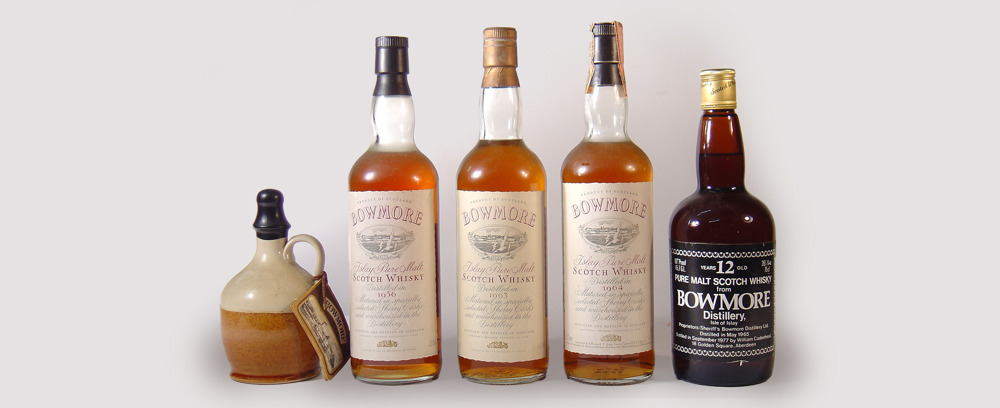 Distilled prior to the company takeover in 1964, bottled by the new Bowmore Company from casks already laid down by the previous owners. These bottles are rare, the 1955 and 1964 are the least often seen on the open market. From casks buried deep in the Bowmore Vaults and bottled in the 1970's and 1980's, some early Bowmore bottlings. From left:
Bowmore-1955
Specially bottled for the opening of the new distillery visitor centre, 12th September 1974, gifted to a select few guests and employees at the time, a rare little decanter.
Average auction results across various platforms:
2006 £510,  2013 £3,500,  2021 £10,000
Bowmore-1956, 1963 and 1964
Average auction results across various platforms:
1956   2008 £540,  2016 £4,200,  2022 £5,600
1963   2010 £700,  2015 £760,  2016 £1,150,  2018 £5,200
1964   2002 £400,  2006 £380,  2018 £6,500
Bowmore-12 year old-1965
From a single cask owned and bottled by the highly respected independent bottlers, Cadenhead's. Very few independent bottling companies have had access to casks distilled at Bowmore Distillery, this is one of the very few exceptions.
Average auction results across various platforms:
2006 £250,  2019 £2,900



Why prestige and mystery is associated with Black Bowmore
1964 was a significant year for Bowmore Distillery. Having just changed hands the year before, the distillery left several casks of the spirit to mature for over 30 years in Olorosso Sherry casks which helped contribute to the colour of the spirit, the distillers were delighted with the resulting product so deep and rich in colour that it is almost Black to the naked eye.
First bottled in 1993, secondly in 1994 and thirdly in 1995, these form a trilogy of the original Black Bowmore, a total of 5812 bottles were released to specialist retailers over the three year period. Of the total bottled, a significant number have already been drunk, scarcity and rarity have driven the value to the current level.
The original recommended retail price of Black Bowmore was between £70-120 in 1993.
Average Auction results across various platforms:
Black Bowmore-1964
1st release, 1993  2000 £1,500,  2010 £1,900,  2022 £12,000
2nd release, 1994  2015 £3,900,  2017 £10,800,  2022 £12,000
3rd release, 1995  2011 £2,000,  2015 £3,800,  2022 £12,000
Glenmorangie Distillery, Tain, Ross-shire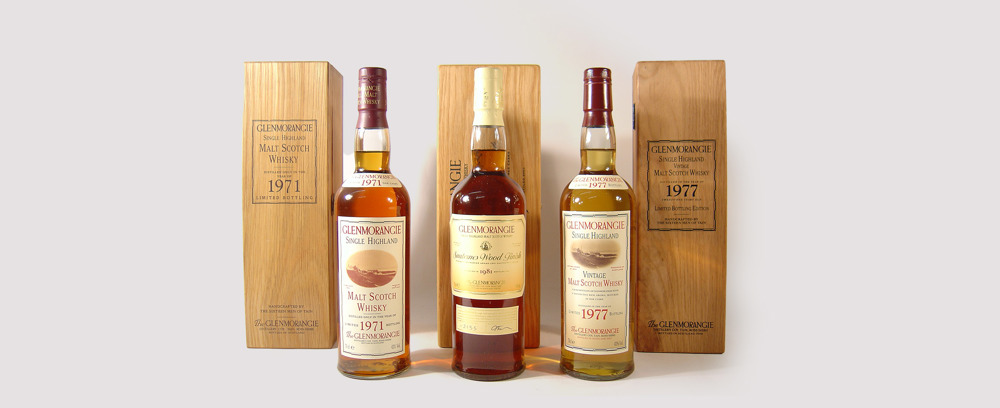 Glenmorangie is famous for it's maturation and finishing process in various cask types which contribute to the unique flavour and popularity of each bottling.
A selection of Glenmorangie from left: Glenmorangie-1971 150th Anniversary bottling, Glenmorangie Sauternes Wood Finish-1981, Glenmorangie-1977, matured in American Oak casks.
These various expressions bottled in limited quantities by the distillery, the Sauternes Wood Finished in Premier Cru Casks, previously used to mature 1st growth sweet Sauternes wine.
Average Auction results across various platforms:
Glenmorangie - 1971  2011 £200,  2014 £450,  2022 £570
Glenmorangie Sauternes Wood Finish - 1981  2014 £370,  2022 £650
Glenmorangie - 1977  2014 £180,  2022 £750
Old Blended Whiskies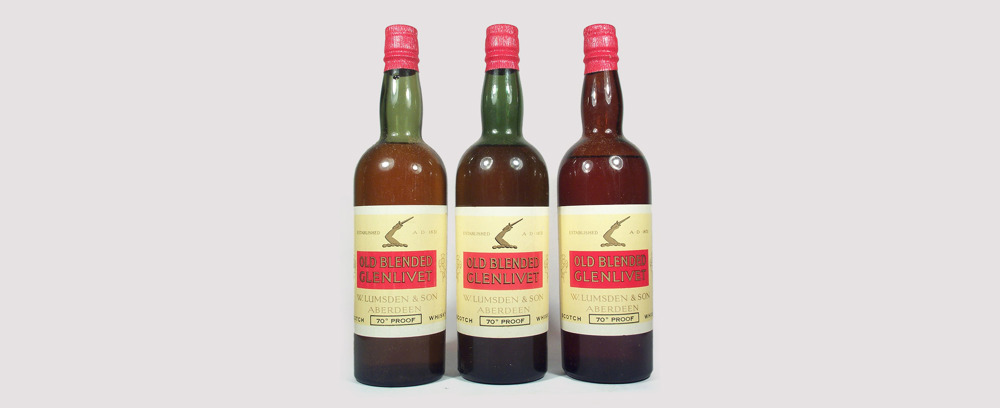 Before single malt whiskies were in such high demand and earned their current high status, many wine and spirit merchants with a license to bottle whisky blended and bottled their own brands prior to and early in the 20th Century.
Whilst these often don't command high prices, certain iconic brands can nevertheless be quite valuable; these can have a great appeal to collectors as can bottles of historical interest and early examples of iconic brands of blended whisky which show the differences between the current product and brand development over decades.
Often their labels are colourful and have interesting and unusual designs that are appealing or the bottles have historical significance relating to the history of specific brands. Many bottled before the introduction of screw caps, older examples often have driven or stopper corks with embossing that matches the brand name, an important factor to help with authenticity.


Storage, a simple guide to storing whisky
If you have a whisky collection on display, preferably keep the bottles dust free behind glass. Bottles which gather dust present the temptation to clean them, be careful that the labels don't get marked or damaged during the glass cleaning process.
Store in the upright position, leave the bottles standing peacefully, if bottles have a driven cork or stopper cork, over time the spirit can rot the cork if the bottle is left lying down or on its' side. A driven cork in a spirit bottle that has been stored on its' side will dry out over time, when returned to the upright position, after it has dried and contracted, that cork may drop, if this happens, the bottle will be worthless and most likely undrinkable too with air oxidising the spirit.
Room temperature can affect the condition of the bottle. Store in a location that is moderate in temperature, not too cold or in the other extreme, not too hot, a quick temperature change can cause condensation on the glass that could run down onto and behind labels causing damage. Dampness is not good for whisky bottles, the labels can peel if left to dry out or even become detached from the bottle over time, if this occurs it is very difficult to replace the label perfectly and impossible to reverse this process.
The boxes and presentation cases that accompany the bottles are a good idea to keep the bottles in, to protect the labels from discoloration which occurs through time if left unprotected.
Keep bottles out of direct sunlight, not only can the sunlight damage the seal and labelling, over time sunlight can bleach the spirit, the damages that occur as a result of bad storage will affect the value of the bottle.
If you stick to these basic guidelines, you won't go far wrong.
Learn more about our first Whisky Auction by clicking the link below.