Back to news articles
Djokovic's winning racket from first Wimbledon final up for auction after lucky catch in the crowd
The tennis racket that made Novak Djokovic a household name at Wimbledon is going under the hammer in September at Graham Budd Auctions for an estimated £10,000-£15,000. The racket was caught by NHS Ophthalmologist and mother of two from Hertfordshire, Mrs Cordelia McKechnie, when Djokovic celebrated after the match by throwing his racket into the crowd.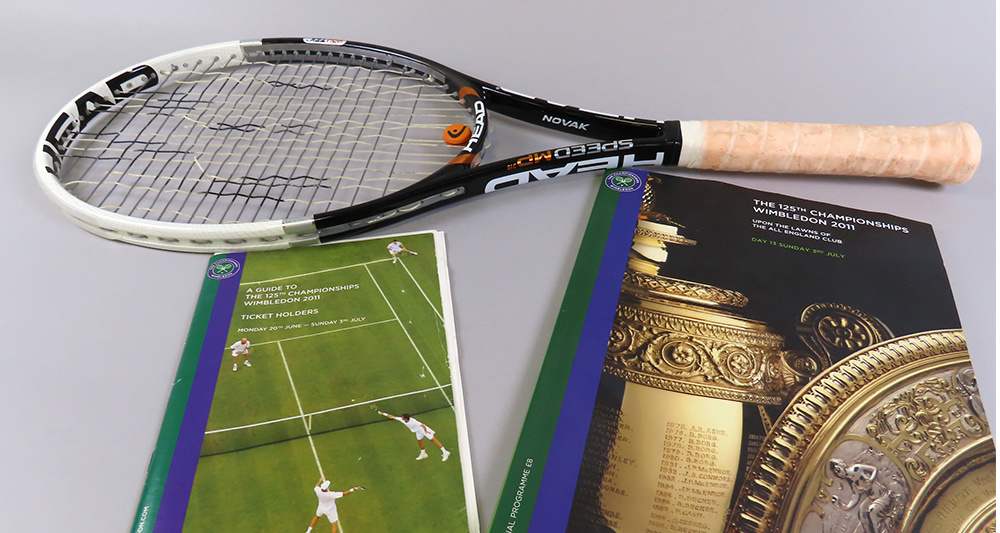 The racket was used for Djokovic's winning shot in his first Wimbledon final on July 3rd 2011, when he defeated the celebrated champion at the time, Rafael Nadal, for what was perhaps their most important meeting that year.
With the hope of Djokovic's eighth Wimbledon final on the horizon, Mrs McKechnie has decided this is the right time to sell. The racket will go under the hammer online and at Northampton-based Graham Budd Auctions during its much-anticipated sports memorabilia auction on the 5th and 6th September.
Commenting on the day she caught the racket, Mrs McKechnie said: "I had already been lucky enough to win tickets through the ballot for Wimbledon, so to walk away with the racket that Djokovic used to make the winning shot was unbelievable. I was overwhelmed with excitement for this once-in-a-lifetime opportunity from someone whose commitment and discipline to the sport I admire so much."
With consignments already catalogued, the September sale will feature over 1,000 lots. Other highlights in the sale include Jonny Wilkinson's final shirt that he wore during the first half of the 2003 Rugby World Cup (estimated £40,000-60,000), Sandy Carmichael's match-worn shirt from the 'Try of the Century match', where Barbarians faced All Blacks in 1973 (estimated £12,000-18,000), plus a 1970 World Cup Winner's medal (estimated £10,000-15,000). The auction is accepting consignments until 4th August 2023 and, with a summer of sport underway, interest from prospective buyers is growing.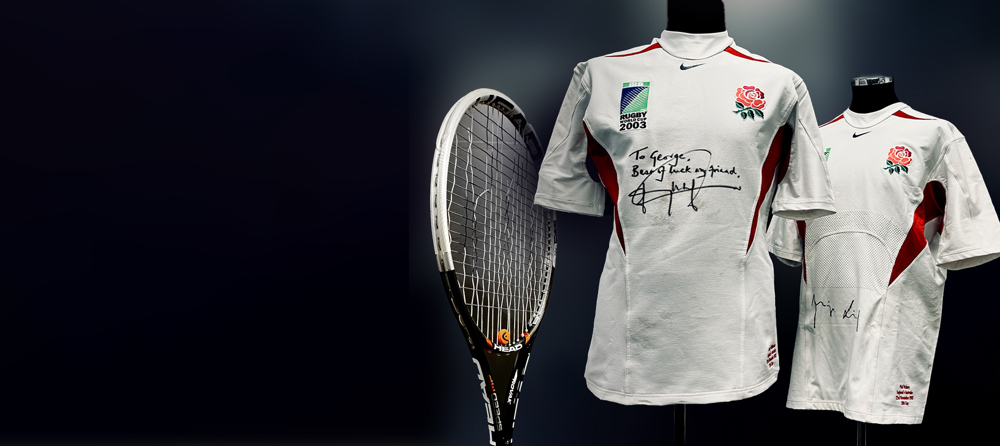 David Convery, head of sporting memorabilia at Graham Budd Auctions, said: "This match-winning tennis racket is truly a great piece of memorabilia for any Djokovic fan or collector. The interior is stamped with Novak's name, the grip is personalised for Djokovic and the racket is in an overall good condition 12 years after his first Wimbledon win.
"It's strange to think that Djokovic was once a person only true tennis fans knew well. This tennis racket represents a crucial moment in Djokovic's rise to become one of the best players of all time."
The Graham Budd sports memorabilia auction is due to take place on 5th and 6th September.
If you watched this year's Wimbledon final, you will most likely recall the controversial moment where Djokovic's smashed his racket against the net post? At the end of the match Djokovic threw his smashed racket into the crowd, with one lucky fan taking it home. We valued this racket on Twitter, which has led to the Daily Mail writing this article based on our assessment.