Back to news articles
Auction Recap: Notable Highlights from our Specialist Horse Racing Memorabilia Auction in partnership with Weatherbys
Join us as we reflect on our Specialist Horse Racing Memorabilia Auction in partnership with Weatherbys. As the auctioneer's hammer fell, horse racing enthusiasts and collectors found themselves on an unforgettable journey through the history of this illustrious sport. The auction took place at Newmarket's prestigious National Horse Racing Museum on the 16th of October 2023. Here are some of the highlight lots which sold on the day: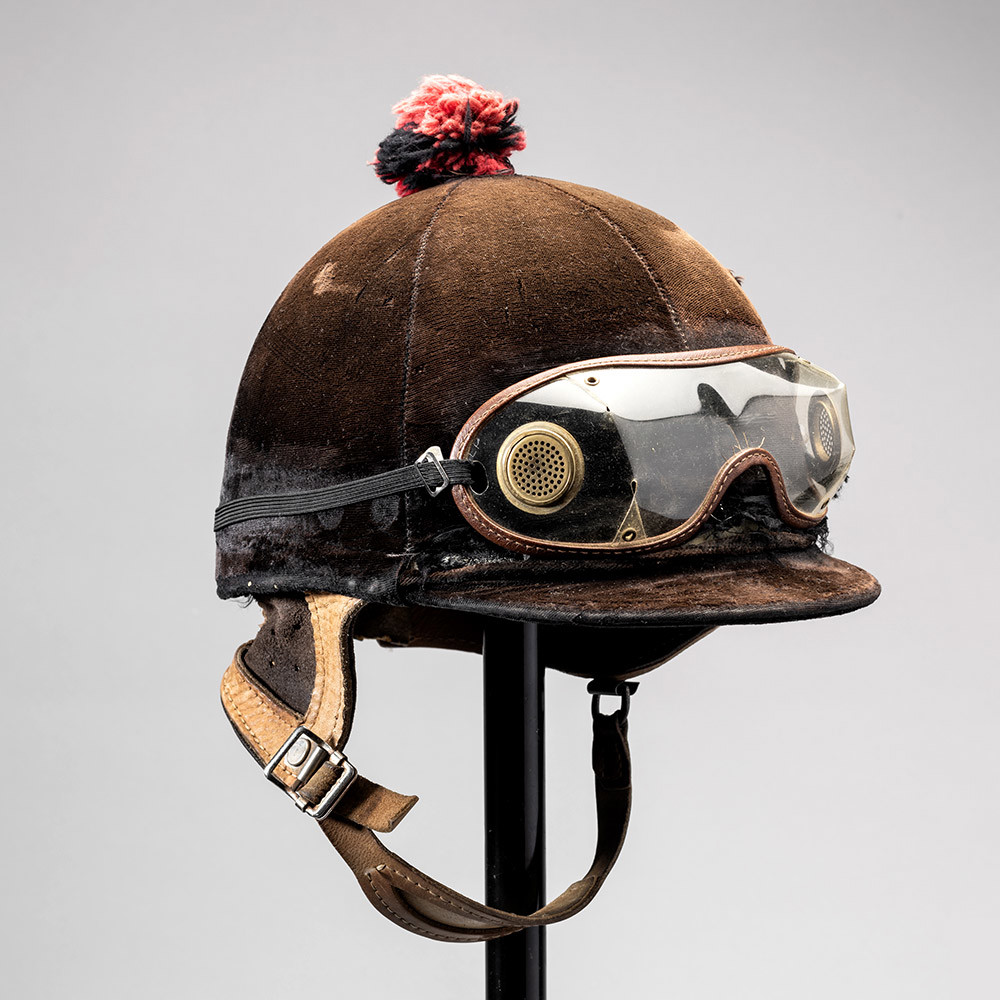 Lot 124: Lester Piggott's signed work helmet and goggles. Hammer Price: £4,200


Lot 226: The St Leger Winning Jockey's cap awarded to Pat Eddery for his victory on Silver Patriarch in 1997. Hammer Price: £3,400


Lot 375: A Gucci ladies Italian silk scarf designed with the winning jockeys colours for Ascot's King. Hammer Price: £1,900


Lot 206: The winning jockey's trophy presented to Pat Eddery for the victory on Dancing Brave in the 1986. Hammer Price: £10,000


Lot 80: Rosa Corder (1853-1893) Portrait of the Jockey Fred Archer signed, oil on canvas, executed in 1883. Hammer Price: £10,500


Lot 134: Lester Piggott's rider's board from Dublin's defunct Phoenix Park racecourse. Hammer Price: £800


Lot 75: John Alfred Wheeler senior (1821-1903) Ormonde with Fred Archer up and the trainer John Porter. Hammer Price: £4,600


Lot 90: The colours of H.M. Queen Elizabeth II worn by Joe Mercer on Highclere when winning the Prix de Diane (French Oaks) at Chantilly 16th June 1974. Hammer Price: £5,500
These items now continue their journey, preserved by new collectors. As we bid farewell to this remarkable auction, we extend our gratitude to all who participated, whether as bidders, consignors, or simply as appreciators of the sport. With over 30 bidders in the room and online bidders from around the world, a fantastic atmosphere was created. We are now looking forward to running this auction on a yearly basis.
Browse the full auction results here: https://www.grahambuddauctions.co.uk/auctions/2023/2023-10-16-will-you-be-a-front-runner