Back to news articles
Art for all Walls of Life: Graham Budd Art's timed auction supporting emerging & young artists
A fascinating group of items relating to iconic artist L.S. Lowry, including a signed train ticket, are among the highlights of Graham Budd Auctions' timed sale titled 'Art for all Walls of Life' which is running from now on until the evening of Sunday, December 11, 2022.
Almost 30 works relating to Laurence Stephen Lowry RBA RA (1887-1976) are on offer. One of the more unusual pieces is a sign page & train ticket stub [lot 137] dated 18th May 1951 that
was given by the artist to a fellow traveller travelling from Salford. It is estimated at £4,000-5,000 and is being sold by a private individual. Alongside this work is a collector's vase [lot 121] depicting Lowry's famous sketch The Football Match. Estimated at £800-1,000, the vase is one of only 50 created by the Dennis Chinaworks and designed by Sally Tuffin. Elsewhere, an original drawing on
paper titled The Old House [lot 143], that was purchased from Sotheby's by a private collector, is expected to fetch £20,000-22,000, while The Three Figures [lot 142], a signed original red chalk drawing dated 1966, carries a value of £16,500- 18,500.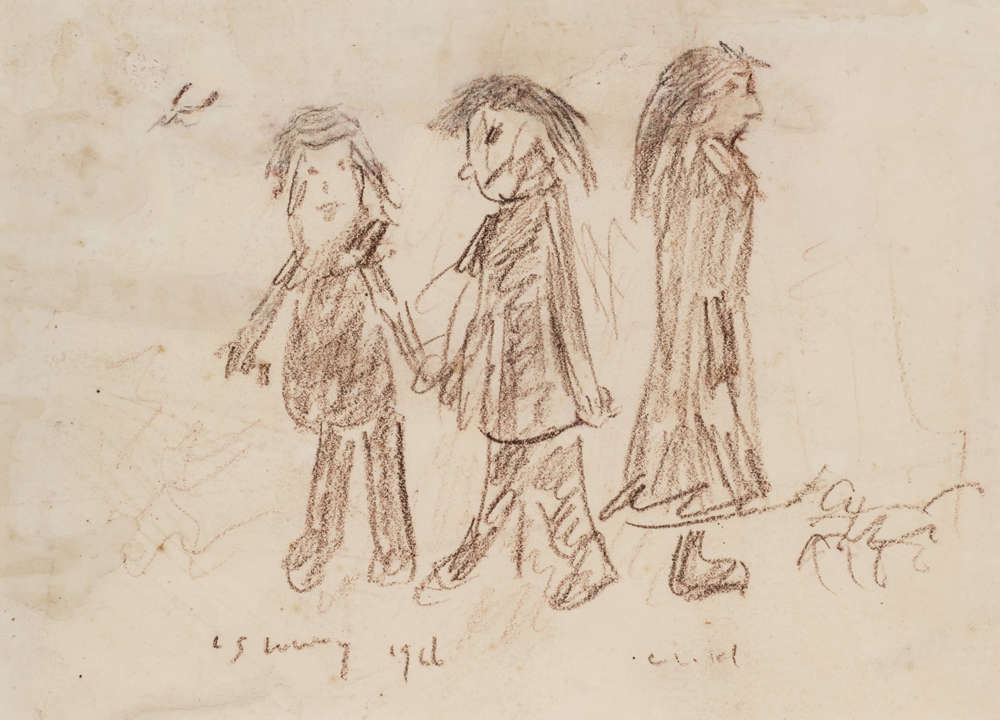 The sale is being curated by Kevin Turton, who joined Graham Budd Auctions as Head of Art earlier this year. He said: "So soon after the sale of the famous work Going to the Match by Lowry for a phenomenal £8 million, we are very pleased to be offering a wide range of items by Lowry that show how affordable some of his works can be. I particularly like the red chalk sketch, which is a superb example of Lowry's original work encapsulating all the elements that he is so well known for producing. There appears to be a story behind this group of three people. It looks as though there is the writing 'child', below the third figure on the right and possibly the beginnings of a dog on the right side. The paper Lowry used to draw this red chalk sketch is very delicate. The previous owner had the work for well over twenty years and it is an intriguing and typically quirky scene by L.S. Lowry."
An oil on board by highly-sought-after Welsh-artist Sir Kyffin Williams OBE RA (1918-2006) of Skye from Harris Outer Hebrides [lot 198] dating from 1950 is estimated at £30,000-32,000.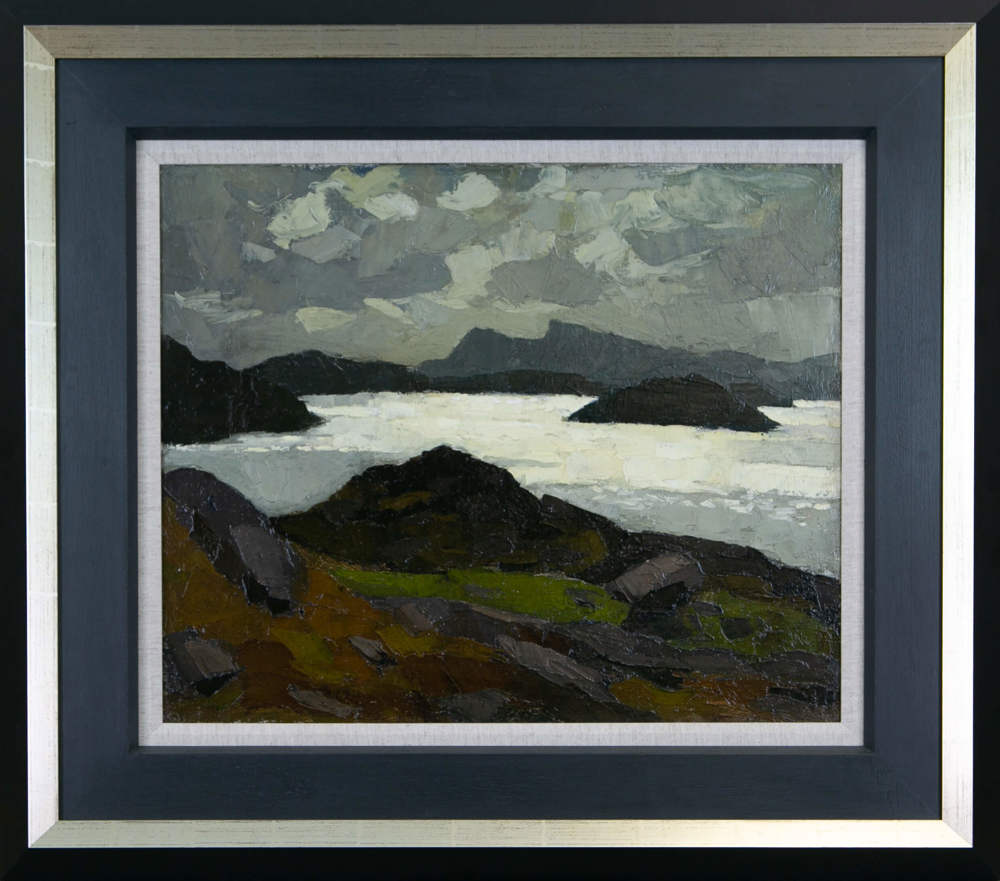 The sale features 200 lots of originals, period posters and signed limited edition screenprints and sculptures with estimates between £200 and £32,000 by well-known artists such as Joan Miro, Marc Chagall, Pablo Picasso, Sir Quentin Blake, Damien Hirst, Sir Jacob Epstein, Banksy and David Shrigley as well as a range of emerging artists.
Emerging Artists
An original painting on a deep canvas by Anne-Marie Ellis titled Tiffany Blue 1837 [lot 49] is estimated at £600-700. Kevin Turton commented: "Artist Anne-Marie Ellis is known for her fashion-focused fine art, which draws on her long and successful career in the fashion industry. With a foundation in visual art and a degree in fashion design, Ellis co-founded a design consultancy where she designed womenswear for numerous luxury and high-end brands. This design discipline and aesthetic vision influences Anne-Marie's artworks; both in her colour palette and stylish subject matter. Her NHS work was displayed on billboards in London during the lockdown."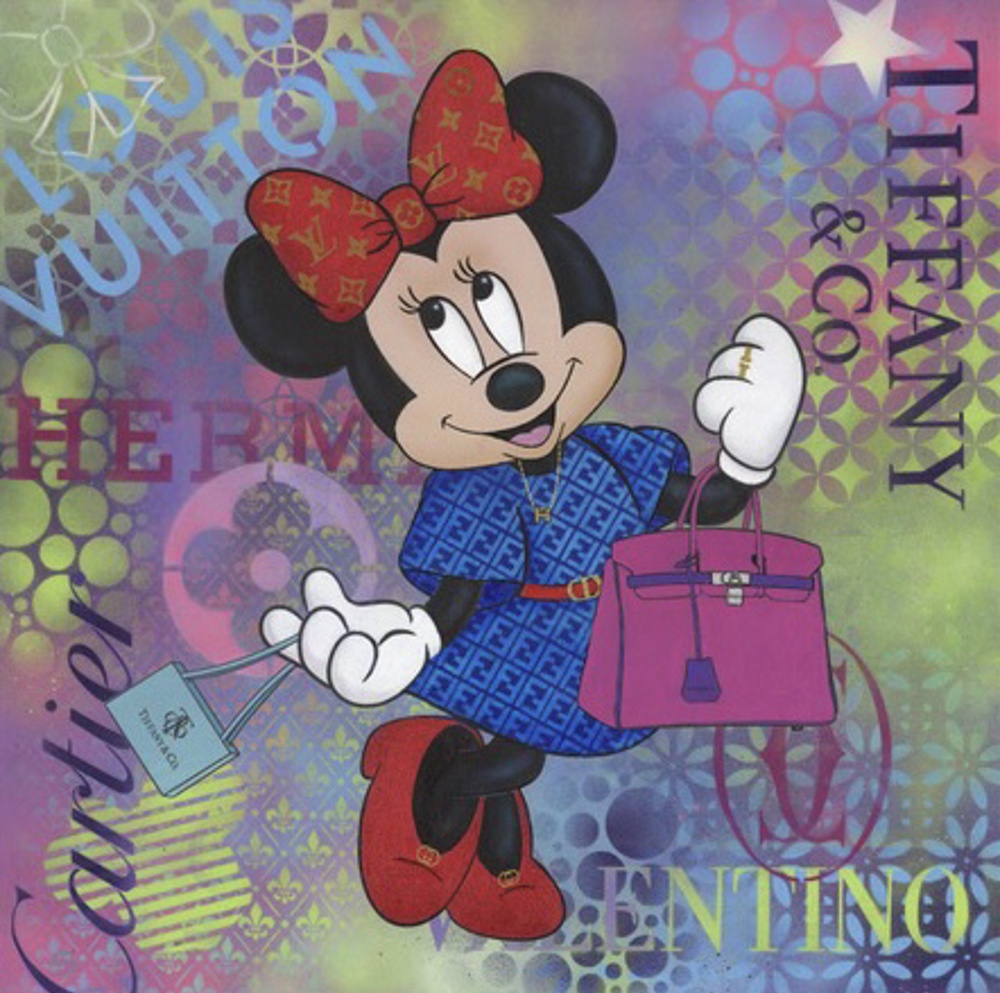 Two original mixed media works on board by Liverpool-based Lisa Holmes are to be offered. Tiffany [lot 94] and Tom & Jerry Shopping [lot 93] are each estimated at £500-600. As Kevin Turton notes: "Lisa traditionally painted animal art but has now evolved it into Brand/Pop art with a fun twist. I love how brands and art can merge to create a fun and engaging narrative which allows us to see the world of designer brands in a much more humorous style."
Elsewhere a watercolour Travellers Life [lot 196] by 20-year-old Norfolk-based artist Kieron Williamson is estimated at £10,000-12,000 and is accompanied by a thank you letter from the artist.
Graham Budd Art is on social media
Instagram: @grahambuddart