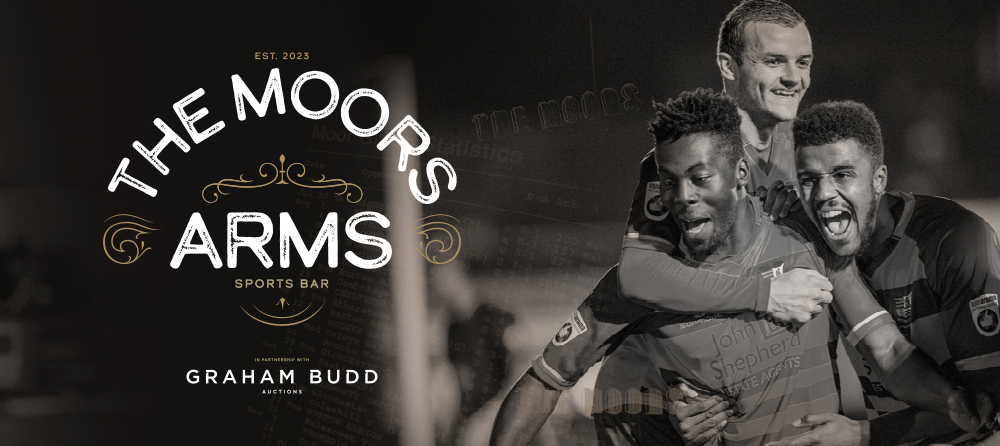 We are delighted to announce that Graham Budd will be one of the principal partners of Solihull Moors FC for the next three seasons.
Founded in 2007, Solihull Moors FC are a professional football team who currently compete in the fifth tier of the football pyramid.
The club's nickname is the 'The Moors'. Solihull also boast a successful women's team who compete in Division One Midlands.
Graham Budd's passion for sport goes far beyond auctioning memorabilia. We hope that our support not only helps elevate Solihull's on-pitch performances, but also assists with the positive impact they are having in their local community.
In particular, we hope our sponsorship can help support Solihull with growing participation in both grassroots youth football and the women's game.
Most recently, our sponsorship has helped support Solihull with renovating the 'Moors Arms' sports bar at their stadium.
This incredible new facility will help create a social space where fans can gather and discuss matches before and after the game. The bar will also be open to the local community for events, giving the public a friendly place to enjoy drinks with friends and family. On display you will find a wide array of interesting sports memorabilia from the Graham Budd collection.
Take a look at the renovated bar on our YouTube channel.
Head of Commercial at Solihull Moors Football Club, Bradley Rice said:
"I am delighted to have agreed a deal that sees us work alongside Graham Budd Auctions for the next three seasons. They have been instrumental in the renovation of the Main Bar, creating a space for our supporters to enjoy on matchdays.

"We wouldn't have been able to do this without the support of Graham Budd, as Adam Gascoigne and his team played a pivotal role in the bar's new design."
"But this is just the start of the partnership, we look forward to hosting collaborative events throughout the season and turning the bar into a trip down memory lane for Moors fans."
"Once again, a massive thank you to Adam and Nick Bromage for the part they have played."
Graham Budd CEO, Adam Gascoigne also shared his enthusiasm for the sponsorship:
"The Moors do such a fantastic job in the local community, we're thrilled to be involved and join them on their journey over the next 3 years."